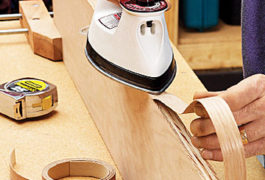 Applying Edging
Gluing hardwood edging to plywood has never
been one of my favourite tasks. It's always tricky
to keep the edging from slipping while tightening
down the clamps. So to help hold the edging in
place, I made some clamping blocks.
These blocks have a shallow, wide groove on one
side that's sized to just fit over the edging and
plywood, see drawing. This holds the edging flush
with the plywood. To prevent the blocks from
getting glued to the work piece, I apply wax to the
surface of the blocks before using them.
Save Your Money and Time