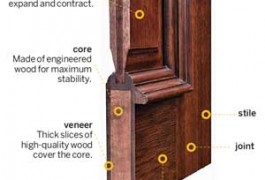 An entryway is the focal point of a home's facade. And the front door, its most prized asset. Dressed with a fine lockset and handsome knocker, the door extends a friendly welcome while also discouraging intruders and shutting out the weather. It's the first thing we grab when we arrive and the last thing we touch when we leave. So it's easy to understand why many of us still like our doors to be made of wood. Nothing else matches the material's warmth and satisfying heft. Or offers so many design options. Steel doors are stamped; fiberglass pops out of a mold. But a wood door can be custom crafted in virtually any shape or size and incorporate whatever molding profiles, panel configurations, glazing options, or carvings that you please.
The knock on wood doors—that they warp—well, that's largely a thing of the past, when they were made of solid stock. For the past 25 years, most major manufacturers have crafted their entry doors with glued-up engineered-wood cores, which overcome solid wood's tendency to twist and cup. That handsome outer layer is actually just a thick veneer. Don't think of this as cheaping out; with regular care, such a door should easily match the life span of your house.
That extra effort—in the form of a fresh coat of paint or polyurethane every couple of years—is the price we pay for choosing wood. But it's a small one, considering the visual and tactile rewards a wood door gives us every time we come home.
Save Your Money and Time